BIRTH CERTIFICATE
– GESTORIA PALMA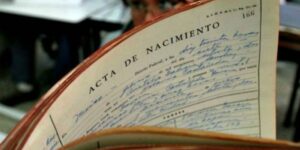 WE REQUEST THE BIRTH CERTIFICATE FROM THE SPANISH CIVIL REGISTRY IN THE SHORTEST POSSIBLE TIME!
There are several reasons why you may need a birth certificate such as obtaining an ID card or passport, accessing an inheritance, getting married, school registration or declaration of incapacity, etc. Therefore, depending on the purpose the certificate in question will bear a special stamp.
From our Gestoria Palma, we take care of processing the application for your birth certificate:
Literal, issued in Spanish.
Multilingual, issued in the official languages of the countries that have ratified the Vienna Convention of September 8, 1976 and intended to carry out formalities in foreign countries: Austria, Belgium, Bosnia, Bulgaria, Croatia, Estonia, France, Germany, Greece, Italy, Luxembourg, Lithuania, Macedonia, Moldova, Montenegro, the Netherlands, Poland, Portugal, Romania, Serbia, Slovenia, Spain, Switzerland and Turkey.
Basically, we request your literal or multilingual certificate of any birth registered in Spain since 1871. We also request those of births occurring in another country, as long as there is a copy registered in Spain in the Central Civil Registry.
As soon as we have all the necessary data, to avoid trips to the civil registry where the birth is registered, calls and waiting, from our Gestoria Palma we will process your application for a birth certificate. Subsequently, you will receive it in the shortest time possible in our office. We can also send it directly to your home in any Spanish municipality, by registered mail or courier.
Finally, in case you need to legalize it for your presentation, we will also take care of apostille your certificate.
CONTACT US AND WE WILL REQUEST YOUR BIRTH CERTIFICATE QUICKLY.
Gestoria Palma
637 089 826
info@gestoriapalma.com